INUA

A Tale Inspired By Inuit Spirituality
10,000 years ago lived Nanurluk, the great polar bear. One day, driven by ambition and the desire to prove their superiority, three humans decided to attack her. After a long and dire hunt, they killed her, disrupting the balance between nature and mankind.Embody the spirit of Nanurluk in her quest to restore the natural cycle of the world. Influence Taïna, Peter and Simon, three characters separated by more than a century but whose destinies are mysteriously intertwined.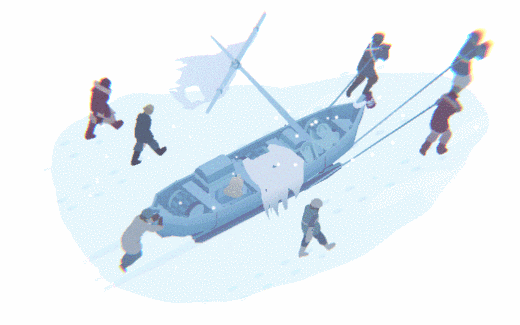 Take Control Of Time and Space
Explore the mysterious Canadian far north, navigate through time and interact with past events to modify the present. In this narrative game, you will have to untangle space and time to solve mind bending puzzles and guide the characters. Each level is made up of several scenes taking place in the same location, but at different times. As you move from scene to scene and from era to era, you will have to guide Taïna, Peter and Simon through the ages.

A story Of Myth and history
The original and supernatural scenario of Inua is based on a very real story: that of the Franklin Expedition, a British mission in the 19th century set to explore the then unknown Arctic. Shipwreck, illness, mutiny: by gathering clues, retrace the tragic journey of this expedition, whose fate is still largely unknown.
Inua – A Story in Ice and Time is :
A supernatural tale inspired by incredible historical facts.
An extraordinary story inspired by Inuit spirituality, based on extensive research with Inuit artists and supervised by an Inuit author
Original puzzles based on space and time manipulation
A game conceived by the creators of Burying Me, My Love and Vignettes, adapted from an original story by Nathalie Frassoni and Frédéric Bouvier, under the breathtaking artistic direction of Delphine Fourneau of the Klondike collective
Développeur : IKO / The Pixel Hunt
Date : 2021