Blooming Business: Casino
Build, design and manage your retro casino empire in Las Venas. Live an eventful journey with your staff, guests and VIPs!
Connect with them and learn their backstories, needs, goals and desires. Who will you side with?

In this tycoon game inspired by the rise of Las Vegas in the 1950s, your mission is to revive a run-down casino, complete quests and manage your clientele for maximum profit. As you gain income and reputation you'll advance through the casino ranks, from dusty desert to the glittering heights of Las Venas.
Manage your casino business and keep everyone happy, from the clients, employees to the VIP's.
Build multi-floored casinos: More floors mean more space to organize your casino games.
Choose your hires, place breakrooms, manage your vault and deal with employees.
Different styles and décor will speak to different customers. Attract the right kind to keep your income and reputation high.
Unlock new items and bonuses for your casino using the Market Research tree. Will you rig the system or legally maximize fun?
Build your A team: Level up your Pitbosses to oversee your employees, increase your loyalty, engage with them, and unlock specific skills for your management.

Blooming Business: Casino is not just your standard tycoon game, you'll progress through narrative missions to try to cater to the demanding and sometimes competing needs of the VIPs.
Each VIP has different skills and unique backstories that you can align with to shape your Casino business. Who will you side with?
Accomplish missions to get to know them. You'll need them on your side so it will be vital to connect with them and learn their backstories to satisfy their goals and desires throughout the missions.
Specialize your casino and adapt your management to cater to their craziest pet peeves for big rewards! Your choices will impact their behaviours and your gameplay experience.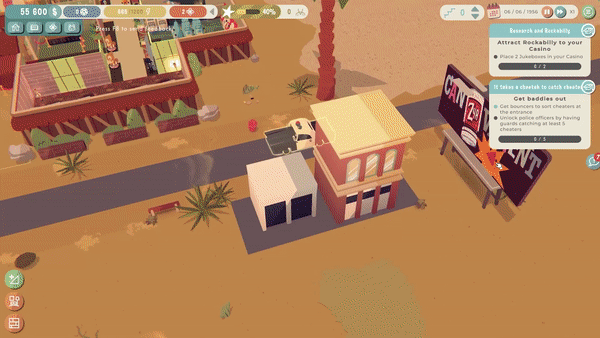 Play the game in one of 2 main modes:
The Campaign – will show you the ropes and introduce you to the VIP's and the rich narrative landscape that makes up Las Venas. You'll make choices here that influence how your Casino career will play out!
Sandbox modes – Casino types, items, decorations and Casino games are open for you to run your Casino and manage your business however you please!
Don't play against the House, be the House…